Welcome to your source for osCommerce 2.3 templates, free osCommerce 2.2 STS templates and free osCommerce 3 templates. With the help of an easy-to-install template, osCommerce can look as good as it works.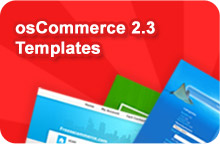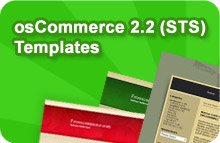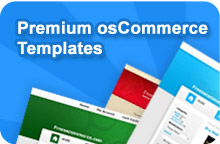 Free osCommerce Templates
Freeoscommerce.com is proud to offer some of the best free osCommerce templates available on the web.  You can find osCommerce 2.3 templates, osCommerce 2.2 templates and osCommerce 3 templates.
Use the links above to browse templates now, or visit the 'About' and 'Support' sections of the website to learn more about osCommerce and using templates to create state-of-the-art websites.
What are templates?
A template (a.k.a. layout or theme) is a way to take an ordinary website and give it a completely new look. In a sense it is a skin that can cover your website and give it the appearance and feel you want while leaving the core functionality/content unchanged.  In other words, it's an easy and inexpensive way to create a professional-looking website.
Freeoscommerce.com offers free and premium osCommerce 2.3 templates, osCommerce 2.2 templates and osCommerce 3 templates.
How do templates work?
Giving your store a great new look is as easy uploading a few files.  osCommerce 2.3 and osCommerce 3 templates use the system's built in framework, osCommerce 2.2 templates use the Simple Templates System (STS) module (see below).
Why do I have to use the STS module for osCommerce 2.2 templates?
osCommerce 2.2 doesn't have a built in template system.  Traditional osCommerce templates can be complicated.  STS osCommerce templates are simple.  Here's why:
Traditional templates overwrite your store files.  STS templates don't overwrite anything.
Traditional templates usually require you to re-install modifications/add-ons.  STS templates work with your existing store.
Traditional templates can be hard to modify; you may have to change every major page file for even a basic change.  STS Templates are easy to modify; you only have to make changes to the one template file and/or the CSS file.
Traditional templates often change the layout and structure of your store.  STS templates completely change the appearance of your site, but leave your store in your control, working the same way it did before.
STS templates are easy to modify, can be turned on/off, and integrate easily with most stores.
If STS works with your store, you can enjoy our easy to use templates.  For more information, check out the
Simple Templates System (STS) module
.
To change the look of your website with a template, just follow these steps:
Find your favorite layout
Download the appropriate template version for your system
If you're running osCommerce 2.2 and haven't already done so; install STS
Install your new template in minutes (here are installation instructions)
Enjoy your new website
Note: If you're interested in purchasing a premium template, it is highly recommended that you download a free template first to test for compatibility with your system -- Freeoscommerce.com templates have not been tested on every possible server configuration and are not guaranteed to work with any particular setup.
Getting started
Downloading and installing the free layouts/themes is fast and easy.
There is plenty of information on this site to get you headed in the right direction, whether you already know a lot about osCommerce or practically nothing about e-commerce in general.